Former Gas Station Remediation site
MAE2 was selected to design and build a remediation system for a closed gas station site in a mixed residential/commercial area after providing the most responsive and cost effective bid.
The consultant put out a request for proposals (RFP) for a dual phase remediation system with groundwater treatment that requested a combination of down well groundwater pumps high vacuum SVE (Soil Vapor Extraction) using 12 wells in order to remove the free product and lower the dissolved phase gasoline concentrations to reach site closure standards.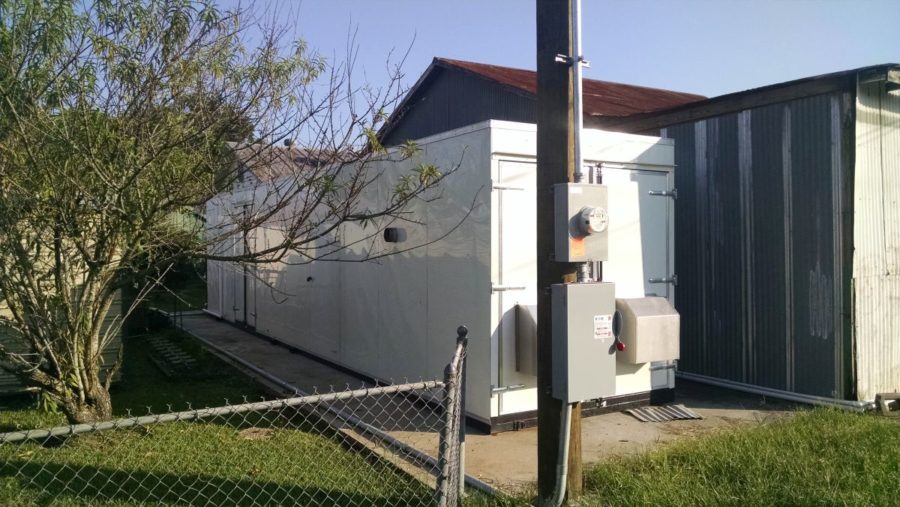 MAE2 responded to the RFP by proposing a high vacuum oil sealed LRP (liquid ring pump) along with 12 QED pneumatic auto pumps to dewater the wells and expose more soil the influence of the SVE. The LRP was chosen because the immediate proximity of residential neighbors required a pump that operated more quietly than other high vacuum options. The pneumatic auto pumps operate on demand with a 15 HP reciprocating air compressor providing the air supply needed for pumping.
The Groundwater Treatment system consisted of an oil water separator the remove free product and an removable tray air stripper to remove the dissolved phase gasoline before discharging to surface water. At system start up the groundwater pumps maintained a groundwater pumping rate of 30 GPM and the LRP maintained a vacuum influence of 20" HG across the site. A steel frame building with sound hoods and sound insulation inside the walls was chosen because of the numerous nearby residences.
The regulatory agency requires consistent run time for all approved systems. The system provides run time hours, vacuum trends, and water flow totals recorded through the PLC control panel. The cellular connection allows full system control and data through easy-to-use web browser access. The instant alarm notification and remote control allows the consultant to immediately respond to any changing site conditions and maximize system run time.
This Gas Station Site remediation System uses the following components and subsystems
Oil Sealed Liquid Ring Vacuum Pump
Removable Tray Air Stripper
PLC Control panel
Oil Water Separator
Vapor Liquid Separator
Centrifugal Transfer Pump
Progressive Cavity Transfer Pump
Reciprocating Air Compressor
Down well Pneumatic Pumps