SVE/AS Enhanced Pump and Treat System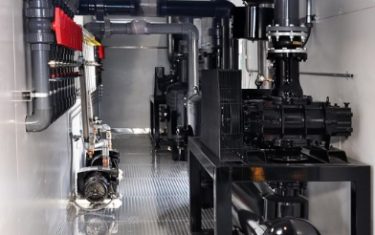 Soil Vapor Extraction Enhanced Pump and Treat Systems technology is the use of vacuum systems and/or sparging systems along with downwell pumps to increase the removal rate for contaminated groundwater and soil vapor. The higher vacuum increases the groundwater gradient allowing downwell pumps to remove the groundwater at a higher pumping rate. MAE2's design team can help you select the best equipment and treatment components for your site needs.
Typical SVE systems include TEFC or XP motor, moisture separator with high level switch, inlet filter and a pre wired, pretested, custom NEMA IV control panel. Also gauges, flow indicators, temperature indicators and transmitters that can be specified per your application.
All components can be fully integrated and pre wired on a steel skid with optional custom sound attenuating enclosure or integrated with new or existing Groundwater Systems.
Options
Skid mounted, open trailer, enclosed trailer, custom enclosure or custom building
Centrifugal / progressive cavity automatic pump out with level controls in clear sight tube
SVE Blower lobe auto oiler
Filter Vessels
Liquid Phase and Vapor Phase Carbon Vessels
Manifolds with flow indicators and gauges